Welcome to RJS Stone Tops, we are specialists in bathroom countertops and bathroom renovations.  With over 30 years experience in the industry, we understand the needs of the homeowner and our planning process is easy and stress free.  Bathroom countertops are vital—we use them every day and so they must stand up to daily wear and tear, cleaning, various beauty products, and moisture. Although often overshadowed by the remodeling of kitchen countertops, bathroom counters are just as important. A bathroom counter must be resilient but also aesthetically pleasing; it must fit its function but also pair well with the theme of your bathroom, keeping in mind that these are often smaller spaces. Vanity tops are also subject to the same wear-and-tear and a desire for an aesthetic appeal.
Most importantly, you must keep moisture levels in mind when choosing a new countertop, especially the steam from hot showers and baths. However, sink spillage can also be an issue. Severe cleaning supplies may also be stored nearby under the sink. Your countertop should be ready for these challenges, and more. Otherwise, you're going to find yourself replacing the countertop more often than you'd like.
There are a lot of options for material. You can pick which one is best for your space by making a list of all the primary functions of your countertop:
Do you do your hair and/or make up in the bathroom or at the vanity (or elsewhere)?
Is it a guest bathroom with little to mild usage throughout the year?
How big is your shower and what kind of ventilation do you have?
How many people use this particular bathroom and how often? Are they children, adults, teens?
These are all things you'll want to keep in mind. By planning ahead, you can find a beautiful countertop that will last for years and years.
For high-use or hard-use bathroom spaces, you'll want something strong and probably something that cleans easily, like Quartz or Granite, for example. Or, if you are all about going "Green," try recycled glass countertops, which are better for the environment.
These considerations can help to narrow your choices substantially.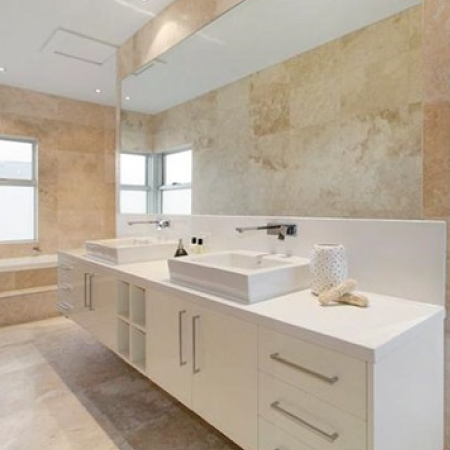 Different types of sinks have different requirements for installation: drop-in, undermount, or vessel style. You'll want to have a sink in mind while selecting the material of your countertop. An integral sink, for example, works best with concrete or glass. Check out our recommended selection of Gemini sinks.
Planning ahead is worthwhile, even if all it manages to do is make sure you have accurate measurements of your space so that you can get solid estimates and look for the best price. However, there are plenty of reasons that thinking ahead will come in handy and save you time and money—like avoiding serious installation or design mistakes!
Vanity tops are premade, so you won't need measurements and installation from a fabricator like you would for a bathroom counter space. You can shop for vanity tops at your leisure and easily set them up on your own. Vanity tops will have similar material options as bathroom counters but will most likely have restricted style choices with little to no customizability.
#150- 2540 Simpson Road
Richmond, BC,V6X 2P9 Canada
MAP