For over three decades, RJS Stone Tops been crafting the most trusted countertops by blending the homeowners vision with exquisite design. Join us on a journey of partnership and creativity, to fulfill your dream with the countertop that brings it to life.
Our commitment to customer satisfaction has helped us become an international supplier of quality countertops in Granite, Marble, and Quartz surfaces. With over 30 years experience in countertops and home renovations, the team at RJS Stone Tops has the knowledge and insight to ensure that your project is stunning in every detail.
Manufacture & Installation
Efficient and hassle-free, our all-inclusive service is the easiest path to your new countertops.
For the Do-It-Yourself customer, RJS Stone Tops will guide you through the design and measure process to ensure the most cost effective solution for your project without compromise in quality and service. 
 Tub Decks, Fireplace Surrounds and Specialized Wall Treatments are just a few of the applications that are perfect for our products and services.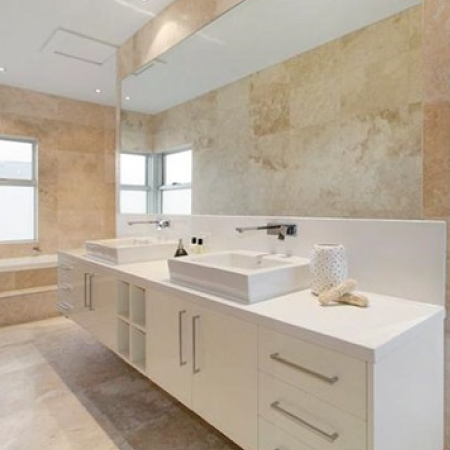 There are a lot of options for material. You can pick which one is best for your space by making a list of all the primary functions of your countertop.
Whether it's a full kitchen renovation, small upgrade, or a quick fix here and there – we are Vancouver's #1 trusted source when it comes to kitchen countertops and renovations.
 Tub Decks, Fireplace Surrounds and Specialized Wall Treatments are just a few of the applications that are perfect for our products and services.  
The RJS Stone Tops Designer Collection consists of 36 carefully selected colors, chosen with the input of our top designers and vendors, representing the direction today's home design is trending. When using the colors from this collection, not only are you getting the most popular colours, but this pricing program gives you the best value for your dollar. With this collection, you are only charged for the material you use. For material not in our Designer Collection, you will be required to buy the whole slab.
Eco-Friendly Committment
We are committed to providing an environmentally  focused business by continually improving our daily operations with "green" on our mind. 
Our Equipment
We have the latest and most sophisticated stone fabrication equipment available today. This helps to increase our efficiency and our speed while decreasing mistakes, human error and cost.
Trust & Integrity
Our commitment to the highest levels of craftsmanship and customer service  has helped develop an extensive network of repeat clients and referrals—one of the highest honors we could ever expect in our industry.
Meet with our specialists to design your space. 
View our extensive collection for the best countertop options. 
We get to work while you sit back and relax. 
These guys are a pro company from sales to install. They did a fantastic job. We also had them do the removal of our old granite counters and there was absolutely no damage to cabinets. Fast, on time, and the best price I could find.
The service provided by RJS Stone Tops was amazing!!
Tilde was incredibly helpful and took all the stress out of decision making. She expertly guided me through the process of selecting the best countertop for my situation. I highly recommend this company. They are the best in the business!!
All around fantastic service from our first visit to the store to the actual install day…and all the steps in between! Charles' response time whenever we had a question was immediate. This was our first kitchen renovation and we did not use a contractor so for any one out there in our shoes…call Charles at RJS Stone Tops if you want to have a friendly, positive, knowledgable & experienced team to help guide you along!!
#150- 2540 Simpson Road
Richmond, BC,V6X 2P9 Canada
MAP